Free Standing Jib Crane
Free standing jib cranes are designed to stand on the land not by any other support but by themselves. It consists of a pivoting vertical column and a horizontal load supporting boom.We rely on not low jib cranes price but the high quality of free standing jib cranes to win to achieve the growing of our company.
Compared with wall mounted and wall travelling jib crane, free standing jib cranes can reach to the higher capacities, longer spans and greater rotation range. Because of the favorable structure, this kind jib crane can be custom-modified to meet the requirement of your special applications.The only restriction of installation is that pressure of the soil free standing jib crane founded on must be up to  2500 lbs per square foot.
Basic Parameter:-
It is a kind of middle and small lifting and equipment developed recently and very suitable for short distance moving and workplace of crowed lift and transportation.
Crane Rotation: 360 degree
Arm length: up to 16 m
Rotating speed: 0.5 r/min
Safe working load: up to 16 tons
Hoisting heights: up to 12 (floor to underside of boom)
Travelling speed: 20 or 30 m/min
Control model: pendant handle, remote
Applications: widely used  in all kinds of industry
Power: AC 415V, 50HZ,3P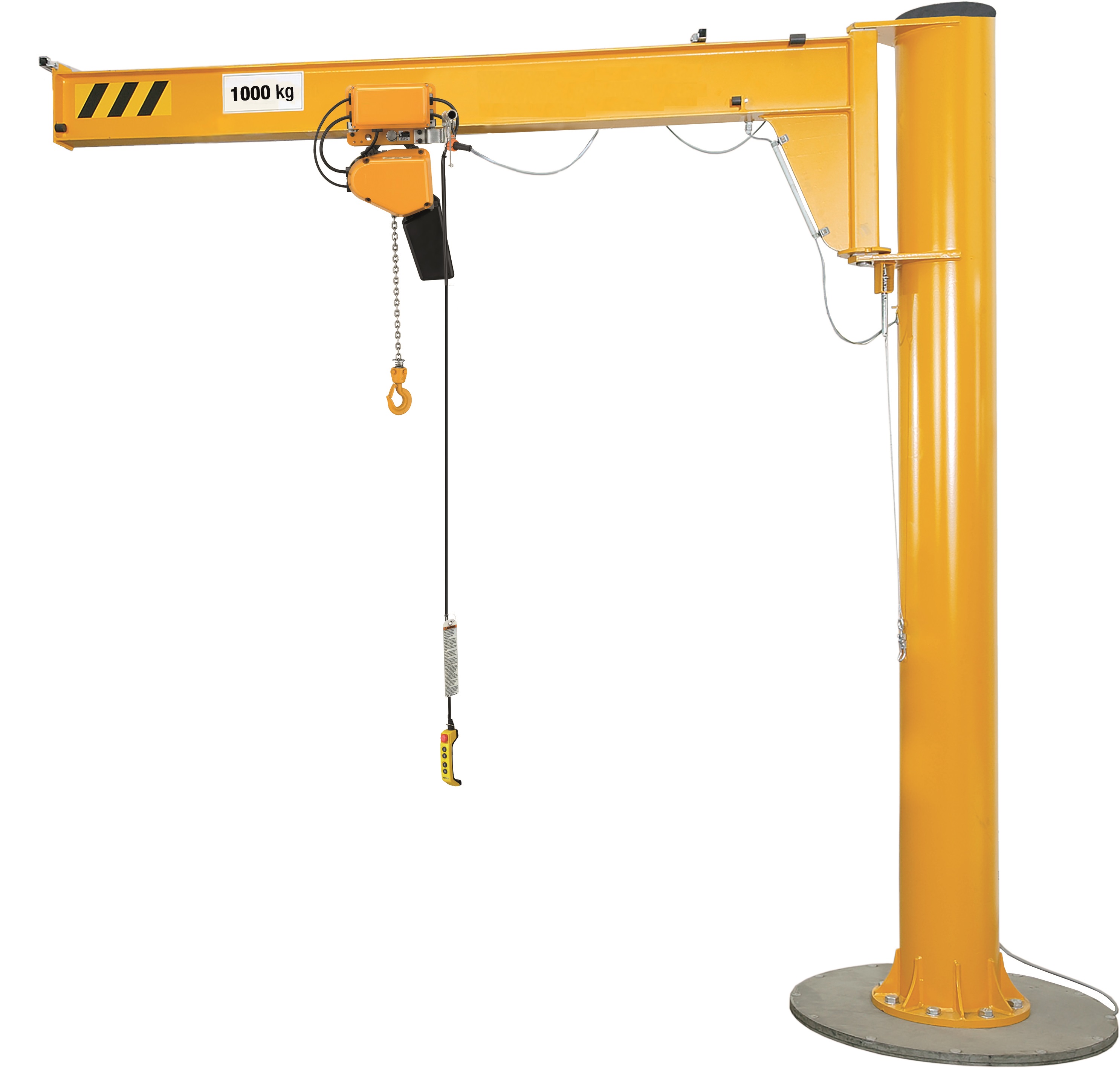 Main Features
Maximum Versatility
It is one of the most versatile cranes. Free standing jib cranes almost can be installed anywhere, either indoor or outdoor, such as loading docks, harbors, shipyard and so on. It also can work together with other jib cranes or work as a complement  in factory assembly lines. The installation and relocation of free standing jib cranes are very simple without disassembling.
Ease Of Operation
The cranes from our factory allow operator to control the movement precisely, efficiently and swiftly. With the advanced technology, we can make jib crane movement very simple and accurate. So the unintentional movements will be minimized. In return, the damage to your factory, equipments even to your personnel will sharply reduced. The  working life of the crane can get added reassurance and will be prolonged.
Safety
We always keep safety in our mind!!! We adopt an emergency stop system to strength safety. When the operation staff encounter some emergency situation, the emergency brake system will start to protect the related treasure. Every production from our factory has been well tested before we transmit to your workplace. And if you are unable to complete the installation independently, our experienced worker will not leave your workplace until the crane has been inspected for 100 percent guarantee.